When you need to practice a presentation and are asking your colleagues to give up an hour of their time to listen to you and give feedback, it seems right to offer some baked goods.
Problem was, I planned my baked goods for an afternoon meeting and actually the meeting was scheduled for the morning. So I had to think of a 'healthy' breakfast treat I could make. While one of my favorites is Alice Medrich's Breakfast Biscotti, I changed my tune and went with this oatmeal cake instead. Oatmeal – basically breakfast in disguise! Cream cheese frosting – just like eating a bagel!
This cake may not be the most nutritious breakfast you could choose, but it was glowingly reviewed and declared the favorite by many.
The oatmeal makes this cake moist like banana bread. The chocolate chips make it decadent. The cream cheese frosting adds a nice touch.
(In typing up this recipe, I realized I took quite a few liberties. I used raw brown sugar instead of moist dark brown sugar. For the frosting, I misread the recipe and used 5 ounces of butter, not 5 tablespoons. This is perhaps why the recipe made quite so much frosting (I definitely would not have called it a "thin, even layer" that I spread on that cake!). I also didn't have time to wait for the frosting to set, so I just put it right on the cooled cake and put the whole frosted cake in the fridge.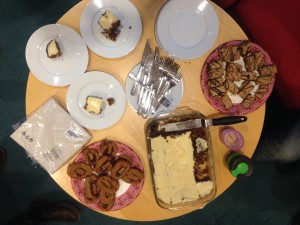 (Breakfast) Oatmeal Chocolate Chip Cake with Cream Cheese Frosting
From Baked Explorations
Yield: One 9×13 inch cake
Ingredients:
For the cake
8 ounces chocolate chips
1/2 teaspoon bourbon, Scotch, or favorite liquor (I used vanilla extract because I don't have any of those fancy liquors)
1 1/2 cups (185 grams) plus 2 tablespoons all-purpose flour
1 cup rolled oats
1/2 cup (114 grams) unsalted butter, cut into small cubes, at room temperature
2 eggs, slightly beaten
3/4 cup (150 grams) granulated (white) sugar
1 1/2 cups (346 grams) firmly packed dark brown sugar
1/2 teaspoon salt
1 teaspoon baking soda
1 teaspoon baking powder
1 1/2 teaspoon cinnamon
For the Cream Cheese Frosting
5 tablespoons (2 1/2 ounces) unsalted butter, softened
5 1/2 ounces cream cheese, softened
2 cups (230 grams) confectioners' sugar, sifted
3/4 teaspoon pure vanilla extract
Directions:
Make the cake
Preheat the oven to 375 F and position the rack in the center. Butter the sides and bottom of a 9×13 inch glass or light-colored metal baking pan. Heat 1 1/4 cups of water to boiling.
Place the chocolate chips in a small bowl and toss them with the bourbon (I used vanilla extract) until covered. Sprinkle 2 tablespoons of the flour over the chips and toss until coated. This will keep them from settling at the bottom during baking. Set aside.
Place the oats and cubed butter in a large bowl. Pour the boiling water over the oat mixture, wait 30 seconds, and stir to moisten all the oats and melt the butter. Set the mixture aside for 25 to 30 minutes.
In a separate bowl, whisk together the eggs, both sugars, salt, baking soda, baking powder, and cinnamon until combined. Fold in the cooled oatmeal and stir until well combined. Gently fold in the remaining flour and then the chocolate chips. Pour the batter into the prepared pan.
Bake the cake for 40 to 45 minutes, or until a toothpick inserted in the center comes out clean.
Let the cake cool in the pan on a wire rack for at least 30 minutes.
Make the cream cheese frosting
In the bowl of a standing mixer fitted with the paddle attachment, beat the butter until it is completely smooth. Add the cream cheese and beat until combined.
Add the confectioners' sugar and vanilla and beat until smooth, about 1 minute. Cover the bowl tightly and refrigerate for at least 30 minutes. (The frosting can be made 1 day ahead. Let it soften at room temperature before using.)
Assemble the cake
Spread a thin, even layer of frosting over the cooled cake. Chill is for 15 minutes so that it can set. Slice and serve. The frosted cake can be kept, refrigerated and tightly covered, for up to 3 days. Bring the cake back to room temperature before serving. (An unfrosted one will keep for 3 days, tightly covered, at room temperature.)