The problem with stocking up on kale when they have it at the market is that you need to use a mountain of kale. Quickly.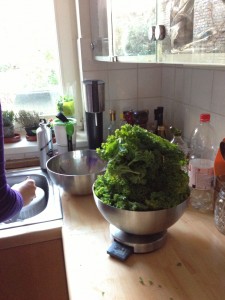 So I promptly got down to making my new favorite salad: Deb's kale salad with cherries and pecans. I have now made it with walnuts and pecans. I've made it with dried cherries, dried cranberries, dried grapes (raisins), and chopped up dates. I've made it with smooth Dijon mustard and whole-seed Dijon mustard. I've made it with runny honey and solid honey. And it's always good.
On this occasion, it was the favorite food item of the party (until I unveiled dessert, but that doesn't really count. You can't compare kale to a lemon meringue pudding cupcake).