I love chocolate chip cookies. And I'm always on the hunt for the best chocolate chip cookie recipe.
For a while, I found it in a recipe whose secret ingredient was vanilla pudding mix.
Then I found it in a recipe that called for whole-wheat flour.
And then a friend of mine, who is also slightly cookie obsessed, starting making the most delicious cookies ever. So of course I had to get the recipe.
Evidently this recipe was an internet sensation in 2008 when the New York Times first published the recipe. How I missed it then I'll never know. By now, many food bloggers have had the chance to experiment with it and make it their own. So I got my recipe from Recipe Girl.
The first clue that this will be a fantastic batch of cookies is in the ingredients list. It calls for a whole 20 ounces of chocolate chips. Twenty ounces! Most recipes I've seen call for a paltry eight.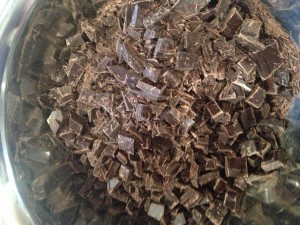 The other secret is the long refrigeration time. I didn't do a systematic experiment like Recipe Girl, but I did bake some after it had been chilling for 16 hours and another batch a couple days later and the second batch definitely came out better. But I also made the first batch baby cookies and the second batch just 'small' ones, so I don't know how much of the difference has to do with cookie size and relative baking time.
Finally, Recipe Girl includes a tip to take the cookies out of the oven while the centers are still doughy, since they continue to bake in their own warmth after you take them out.
A note about cookie size. Recipe Girl's directions say to make 5-inch cookies with about 3.25 ounces of dough. That sounded like diabetes in a cookie to me, so I went for the 'small' size of just 2 ounces of dough per cookie. She calls them 'golf ball' sized. And to be honest, I've never played golf in my life. But they seemed way bigger than golf balls!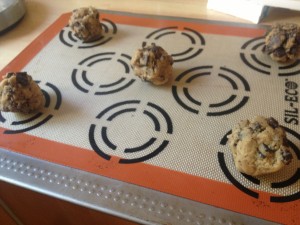 Super delicious, though. They're crunchy, chocolatey, chewy, and fantastic. I need to stop thinking about them and move the tupperware off of my desk, otherwise I will consume more 'small' cookies than one person is supposed to per day…
New York Times Chocolate Chip Cookies
Yield: 18 very large cookies or 31 smaller cookies
Prep Time: 15 min + chill time
Cook Time: 18 min
Ingredients:
2 cups minus 2 tablespoons (8 1/2 ounces) cake flour
1 2/3 cups (8 1/2 ounces) bread flour
1 1/4 teaspoons baking soda
1 1/2 teaspoons baking powder
1 1/2 teaspoons coarse salt (I used sea salt)
1 1/4 cups unsalted butter (2 1/2 sticks)
1 1/4 cups (10 ounces) packed light brown sugar
1 cup plus 2 tablespoons (8 ounces) granulated white sugar
2 large eggs
2 teaspoons vanilla extract
20 ounces bittersweet chocolate chips (I used semi-sweet)
extra chocolate chips, optional
sea salt (optional)
Directions:
1. Sift together the dry ingredients (flour through salt). Set aside.
2. Use an electric mixer to combine the butter and sugars – mixing until the mixture is very light, about 5 minutes. Mix in the eggs, one at a time. Add the vanilla. Reduce the speed to low, add the dry ingredients and, mix just until the dry ingredients are incorporated. Stir in the chocolate chips. Place the dough in an airtight container and refrigerate a minimum of 24 to 36 hours before baking (and up to 72 hours).
3. Preheat oven to 350 degrees F. Line baking sheets with parchment paper or silpat mats.
4. For 5-inch cookies, scoop six 3.25 ounce mounds of dough- giant golf ball-sized (I rolled mine into balls) onto a baking sheet, spacing them evenly apart. Don't try to fit more on the sheet or you'll end up with cookies baking into each other. Dot some extra chocolate chips on top, if desired. Sprinkle each ball of dough with a small pinch of sea salt, if desired.
5. Bake until the edges are golden brown and the center is lighter and soft, 18 to 20 minutes. Let the cookies cool on the baking sheet for about 15 minutes, then transfer the cookies to a rack and let them cool completely. Repeat with the remaining cookie dough.
Tips:
*If you'd prefer to make smaller cookies, shape your cookie dough into small golf ball-size instead (2 ounces), and bake for 15 to 18 minutes.