I had a minor breakdown on Thursday. We were going to have a "thank goodness it's the Friday afternoon before vacation" party in one of my classes and a student (very politely) requested chocolate cake. In fact, in a moment of procrastination, he even sent me some google image results of the type of cake he would like me to bring. Which inspired me to make German Chocolate Cake. As explained by Julie in Vintage Cakes, German Chocolate Cake isn't German at all. It was invented by a guy whose last name was German, so it was called German's Chocolate Cake. And because people are lazy when they speak, it got changed to German Chocolate Cake.
But her recipe was for a rolled up cake and I was not in the mood to try to roll a cake. Plus I realized after searching 5 cookbooks that I actually don't have any dessicated coconut. So out with the German Chocolate Cake idea.
So I turned to the Baked boys and their chocolate chapter in Baked Elements. The title, picture and description of this cake immediately drew me in. A tunnel of hazelnut fudge?! Plus the very last line in the note is "make thi scake – you won't be disappointed."
So I made the cake. And I have to say, I was disappointed.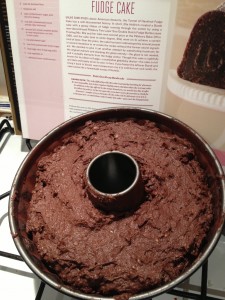 First, though, the good things about this cake:
* if you like moist cakes, this one is for you
* if you like the crunchy texture of chopped nuts in your chocolate cake, this one is for you
* if you transport cakes via public transit to your place of work to feed students, this one is for you. The Bundt pan fit in my backpack and I rode my bike to school with the cake and a large paper serving platter on my back. When we got to D period, I thunked the cake out of the pan onto the platter and voila! – I had a beautifully unmolded cake which I proceeded to sprinkle with fresh powdered sugar.
But here's why I was disappointed. To me, a tunnel of fudge means it's not just moist like fudge, but it's super chocolatey and rich and gooey like fudge. It was moist. And gooey. But it wasn't super chocolatey.
That, really, was my main complaint. My students and my husband all loved it. Luckily it was second to last period, because I sugared those kids up good and hyper with this cake. It looked super chocolatey. And it smelled super chocolatey. But to me it lacked some chocolatey oomph.
Tunnel of Hazelnut Fudge Cake
From Baked Elements
Yield: one 10-cup Bundt cake
Unlike some other classic American desserts, the Tunnel of Hazelnut Fudge Cake has a well-documented history. In short, Ella Helfrich created a Bundt cake with a gooey ribbon of fudge running through the center by using a now-discontinued Pillsbury Two Layer Size Double Dutch Fudge Buttercream Frosting Mix. Ella and her cake won second prize at the Pillsbury Bake-Off in 1966, and the cake (and to some degree Ella) went on to achieve a certain kind of fame. Over the years, the cake has been redeveloped by several people in several iterations to re-create the recipe without the former secret ingredient. We decided to give it yet another attempt by substituting hazelnuts for the original walnuts and skipping the glaze entirely – the glaze is not needed, and it actually distracts from the fudgy center. Though this cake is rightfully known for its ribbon of fudge – a somewhat gimmicky device – the cake is rich and dark and toasty all on its own. In fact, if you freeze the leftover Bundt and bring it back to almost room temperature (so it is cold but not rock solid), the cake taste like a homemade scoop of Nutella.
Baked note: The only difficulty with this cake it properly checking for doneness. It's not impossible, but it does require slightly more attention than the average cake. In addition to the tips offered in the recipe directions, we would also like to offer the following advice : (a) do not open the oven door every 30 seconds to check for doneness – maybe every 2 minutes, (b) the cake will be delicious even if it is 2 minutes over- or underdone, and (c) make this cake – you won't be disappointed.
Ingredients:
2 cups hazelnuts, toasted and skinned
2 cups all-purpose flour
1 teaspoon salt
2 cups confectioners' sugar, plus more for dusting
3/4 cup dark unsweetened cocoa powder (like Valrhona)
10 ounces (2 1/2 sticks) unsalted butter, at room temperature, cut into 1/2-inch cubes
1 cup granulated sugar
3/4 cup firmly packed dark brown sugar
3 large eggs, plus 3 large egg yolks
1/4 cup vegetable oil
1 tablespoon pure vanilla extract
Directions:
Preheat the oven to 350F. Generously spray the inside of a 10-cup Bundt pan with nonstick cooking spray; alternatively, butter it thoroughly, dust it with cocoa powder, and knock out the excess cocoa.
In a food processor, pulse the nuts until they are somewhere between coarsely chopped and almost powdery (you do not want to pulse until they become nut butter). Pour the chopped nuts into a medium bowl, add the flour and salt, and whisk until combined.
Sift together the confectioners' sugar and cocoa powder into a small bowl.
In the bowl of a standing mixer fitted with the paddle attachment, beat the butter and both sugars until pale and fluffy. Scrape down the sides and bottom of the bowl, turn the mixer to low, and add the eggs and egg yolks, one at a time, beating until just incorporated. Add the oil and vanilla and beat until the batter is uniform. Add the confectioners' sugar mixture and beat on low speed until just combined. Remove the bowl from the mixer and gently fold in the nut mixture.
Spoon the batter into the prepared pan, smooth the top, and bake for 38 to 45 minutes, rotating the pan halfway through the baking time. Very important note: due to the presence of the fudgy cake center you will not be able to test the cake for doneness using the traditional "toothpick test." Instead, make sure you oven temperature is accurate and watch the time carefully. The cake is technically done when it just begins to pull away from the sides of the pan or when it springs back when gently pressed – though this is not a fail-safe test. My best advice is to keep an eye on this cake after the 35-minute mark and pull it out the moment you think it's done.
Transfer the Bundt to a wire rack to cool for 2 hours in the pan. A great tip we picked up a Shirley O. Corriher recipe: To prevent the cake from cracking and sinking (if you care about these things – it is the bottom of the cake after all), simply use your fingers to gently press the surfact of the cake where it touches the inner and outer edges of the Bundt pan.
Gently loosen the sides of the cake from the pan and turn it out onto a serving platter. Sprinkle with a little sifted confectioners' sugar, if you like, and serve immediately.
Freeze any leftover cake, tightly covered, for up to 7 days. Before serving, let the cake come to almost room temperature (we think the leftovers taste better cold than at room temperature).